Exigency by Michael Siemsen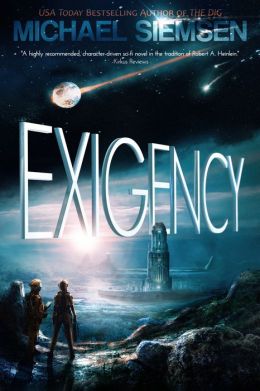 '
Michael Siemsen is like Mozart on a Typewriter. This is his fifth book and his third genre and they have all been hits out of the park.
This time Michael has taken us off-world and stranded us on a planet that could either be our best dream or worst nightmare. It is adventurous, spine tingling, and cost me a night's sleep (which is a sign of a really good book). I was fortunate enough to have been provided with an advanced copy to review, and can't wait for the final edition to hit the shelves.
In a faraway galaxy, on a mystical planet resides two species of beings that have developed to the point of establishing societies, cities, and proved to be of interest enough for a group of scientists to buy into a one-way ticket to an observatory space station to study this planet and its inhabitants. Then a few pages into the story, the worst of nightmares happens, and suddenly the scientists are ejected from the space station in emergency pods that misfire in all directions.
What happens next sends the reader on a fast paced page turner as you run for your life one moment and try to negotiate for it the next.
As always, Michael provides attention to detail and weaves a world of mystical wonder. His descriptions of both the flora and fauna and the intelligent (and non-intelligent) species of the planet are so keen that you have no trouble visualizing them in 3D living color, but just vague enough to allow your own interpretation of the finished product. Just what does a Kangagorillagator (my descriptive word) look like? Mind boggling and ferocious..